Welcome to the official Website of Cubanísimo.
This is the home of Afro-Cuban music in Europe.
Latest news
Upcoming live concerts 2015
24.07.15 Kulturtage Oldenburg, Germany
07.08.15 Gyngen Club, Aarhus, Denmark
Cubanisimo at No. 4 in Colombian chart at Latin Beat!
Buenas noticias! Good news!

Cubanisimo is at number 4 of Colombia chart in Latin Beat (Los Angeles)!
"Marketing" album at specialized stores
Cubanisimo album "Marketing" is recently at following specialized stores:

Cuba Music (Italy)
Cubanisimo on spotlight at Solar Latin Club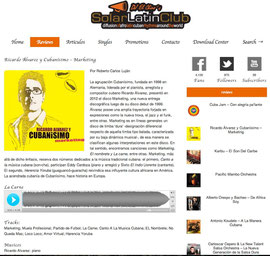 "Marketing" album is from October 1st. in all major internet digital stores!
Yes!, from October 1st, 2012 is our new current album "Marketing" on all major internet digital stores!
The list of stores is here:
iTunes, Amazon.com, Music Load, 24/7 Music Shop (Media Markt/Saturn), Ovi (Nokia), Emusic, Deezer, Spotify
Arvato Mobile (Zimbalam), Simfy.com, YouTube Fingerprint
and waiting for confirmation, very soon:
MusicNet / MediaNet, Rhapsody, Vidzone (Vodafone)
Please rate the CD, write comments and spread the word!
The CD is here!
After a successful release concert last Monday July 23rd. the new album of Ricardo Alvarez y Cubanisimo is now available on our store!
Get the physical album with the beautiful booklet including all the lyrics and album notes by Latin Beat Magazine Luis Tamargo.
Album Release Party

Celebrate with us the Release Party ! 
Come and get the New Album for free ! 
A premiere Concert with Cubanisimo is something we do not experience every day, even though the founder and Bandleader Ricardo Alvarez lives in the beautiful port city Hamburg.
Immediately afterwards, you can rejoice an autograph session and Aftershowparty, where DJ Juan Carlos and Frank Ehlers play the latest Cuban hits. And all this in one of the most beautiful Locations of Hamburg - The Park Café Schöne Aussichten!

Live show, free CD , Autograph signing, dance performance "a la cubana'', summer, sunshine, barbecue - get ready for an unforgettable evening!

Vamos a la Fiesta!

INFO & FACTS
WHAT: Album-Release Party // Live concert + Free CD + Aftershowparty
WHO: Ricardo Alvarez y Cubanisimo
SPECIAL GUESTS: Dany Labana (Labana, Lou Bega) & Tony Moreaux (Afro-Cuban All Stars)
WHERE: Cafe Schöne Aussichten - Gorch-Fock Wall 4, 20354 Hamburg
WHEN: Monday, July 23th, 2012  CONCERT START: 21:00 h 
OPENING: 20:00 h
DJ's: Frank Ehlers & Juan Carlos 
Presale Tickets: 10,00 €
Box Office Tickets : 15,00 €

The first tickets available here ! ( +1,00€ Presale Fee)
www.cubanisimo.tickets.de
New album ready.
The long-awaited new album of Ricardo Alvarez & Cubanisimo is ready with 11 original songs ranging from guaracha until timba dura. Take a listen clicking on the album cover or here.
The official release will take place very soon!
Unidanza Afrocuban Dance Festival with Cubanisimo.
Confirmed! Yes, it is already confirmed the concert of Cubanisimo at the Afrocuban Dance Festival in Hamburg, on October 27th, 2012. Wait for more details.